Fairfield, NJ – November 30, 2022 – Crispy Green Inc. announces that Eric Shellenback has joined the company and taken on the role of Chief Operating Officer, effective November 28, 2022. In this capacity, Shellenback is taking over the day-to-day management responsibilities for running the Crispy Green business. He is reporting to Angela Liu, the CEO and Founder of the company. 
Shellenback has 25+ years of CPG food industry experience. Early in his career, he worked for industry giants such as The Quaker Oats Company and Nestlé, and became the divisional president for Haagan Daz Retail and Preferred Meals (owned by Elior North America). His entrepreneurial urge compelled him to purchase and co-own a small bakery company in 2010 and grew it over 10 years, then successfully sold it to a PE group in 2020.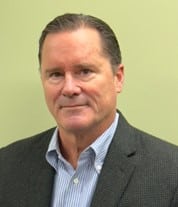 "Eric's wealth of knowledge in the food business, particularly in sales and marketing, his leadership skills, and his experience in growing a company of similar size to Crispy Green, is exactly what we need at this time. We couldn't have found a more ideal candidate for the position of COO for Crispy Green." said Angela Liu.
This is a major milestone for Crispy Green and a significant addition to its leadership team as the company is looking to continually expanding its markets as well as its product offering.
Eric expressed: "During my career I have had the privilege of working with top consumer goods companies and brands, but Crispy Green has given me the opportunity to work with natural, good for you products that I truly feel passionate about. Angela has built a successful business with a great company culture. I'm honored that Angela has the trust in me to hand me the COO position and to help her take the company to the next level"
Using Food As A Force For Good™
Crispy Green uses food as a force for good by offering a variety of healthy, clean portable snacks of the highest quality for people who live an active lifestyle and seek brands that align with their values. The company's consumer education website, SmartLifebites, offers practical tips and information on healthy lifestyle topics such as fitness, nutrition, family, travel, as well as providing solutions to minimize food waste and help fight hunger.
About Crispy Green, Inc.
People are seeking healthy, tasty snacks to fuel their active lifestyle. Crispy Green provides 100% pure fruit as a grab-n-go snack that satisfies without sacrificing taste, while adding more fruit to their diet.
Founded in 2004 and headquartered in Fairfield, NJ, Crispy Green, Inc. is the number one freeze-dried fruit snack in the U.S., according to the latest Nielsen research ending 4/2/22. The company's category-leading Crispy Fruit line of 100% pure, freeze-dried fruit is made from only the finest, non-GMO fruits available with no sugar added (*not a reduced calorie food).
Crispy Fruit can be found in many major grocery retailers nationwide as well as online at https://crispygreen.com/products/, Amazon and ship.Kroger.com. For more information, visit www.CrispyGreen.com or its sister lifestyle site, www.SmartLifeBites.com. For news updates and exclusive offers, you can also follow Crispy Green on Facebook, Twitter and Instagram.